CORONAVIRUS: 05May21 UpdateAll UK venues closed on 16th March 2020. Many are planning to re-open by late May 2021 with some restrictions and possibly fully open from mid-June.
Performance
Venue
The Young Vic
Other spaces: Maria/Clare
Town
West End
County
Greater London
From
19th May 2011
Opened
24th May 2011
To
11th June 2011
When
Mon-Sat 19:45. Wed,Sat Mats 14:45. May 24 19:30
Prices
From £19.50. To £19.50.
What is currently on at The Young Vic (V245)
Kafka's Monkey
T0559976067
'Honoured members of the Academy! You have done me the honour of inviting me to give you an account of the life I formerly led as an ape.'
Imprisoned in a cage and desperate to escape, the ape-man reveals his rise through the ranks of the beasts to become a walking, talking, spitting, smoking, hard-drinking man of the stage.
---
Archive :: production:T0559976067, play:S0162846876, venue:V245
---
Production details
Run time: 45mins
Maria
Digital Theatre
This production is available to view via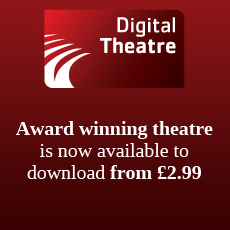 Other
Digital Theatre
productions include;
---
---
Cookies in Use