CORONAVIRUS: 05May21 UpdateAll UK venues closed on 16th March 2020. Many are planning to re-open by late May 2021 with some restrictions and possibly fully open from mid-June.
Performance
Venue
Almeida Theatre
Town
West End
County
Greater London
From
31st August 2012
Opened
11th September 2011
To
3rd November 2012
When
Mon-Sat 19:30. Sat Mat 14:30. Sep12 11 at 19:00
Prices
From £8.00. To £32.00.
What is currently on at Almeida Theatre (V166)
King Lear
T1316291148
King Lear divides his Kingdom between his daughters according to a declaration of their love for him. His eldest Goneril and Regan exaggerate their affection and inherit. His youngest daughter Cordelia speaks only the truth and is banished. So begins the tragedy of King Lear, whose dignity, sanity and finally life are torn from him by a self-seeking younger generation, ambitious for his power. What is love, what is madness, what is truth - Shakespeare explores these questions together with many others in King Lear, widely considered to be his greatest tragedy.
---
Archive :: production:T1316291148, play:S0555289637, venue:V166
---
Production details
World Shakespeare Festival
Special Performances
---
9 Oct 12 Open Captioned (STAGETEXT)
20 Oct 12 Audio Described
Digital Theatre
This production is available to view via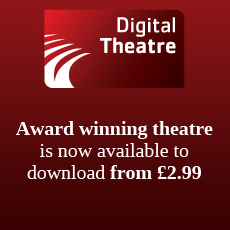 Other
Digital Theatre
productions include;
---
---
Cookies in Use