CORONAVIRUS: All UK venues closed on 16th March 2020 and there is currently no planned re-opening time though it will not be before 1st June 2020 and is most likely to be September (according to some West End producers). Some shows have been cancelled, or closed early, but many are being rescheduled and we are trying to keep up with the changes - assume that anything posted for April and May is actually postponed or cancelled. Pantomimes are possible but a few venues and shows may not return and larger venues and tours are unlikely to re-appear before 2021.
Performance
Venue
Almeida Theatre
Town
West End
County
Greater London
From
31st August 2012
Opened
11th September 2011
To
3rd November 2012
When
Mon-Sat 19:30. Sat Mat 14:30. Sep12 11 at 19:00
Prices
From £8.00. To £32.00.
What is currently on at Almeida Theatre (V166)
King Lear
T1316291148
King Lear divides his Kingdom between his daughters according to a declaration of their love for him. His eldest Goneril and Regan exaggerate their affection and inherit. His youngest daughter Cordelia speaks only the truth and is banished. So begins the tragedy of King Lear, whose dignity, sanity and finally life are torn from him by a self-seeking younger generation, ambitious for his power. What is love, what is madness, what is truth - Shakespeare explores these questions together with many others in King Lear, widely considered to be his greatest tragedy.
---
Archive :: production:T1316291148, play:S0555289637, venue:V166
---
Production details
World Shakespeare Festival
Special Performances
---
9 Oct 12 Open Captioned (STAGETEXT)
20 Oct 12 Audio Described
Digital Theatre
This production is available to view via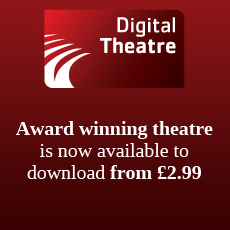 Other
Digital Theatre
productions include;
---
Developed and Maintained by
RMJIold
---
Cookies in Use