CORONAVIRUS: 05May21 UpdateAll UK venues closed on 16th March 2020. Many are planning to re-open by late May 2021 with some restrictions and possibly fully open from mid-June.
Parlour Song
T0613642551
Ned and Joy are a married couple. He is a demolition expert, she is a housewife. They live in a house that adjoins neighbour Dale and seventy eight other houses just like theirs. Occasionally they enjoy a game of scrabble. But Ned has a recurring dream and a recurring problem; things keep disappearing. Parlour Song is a comedy that explores what happens when two ordinary people discover they hate who they have become, in a world where all is not what is seems.
---
Archive :: production:T0613642551, play:S2030800616, venue:V166
---
Production details
European Premiere.
Special Performances
---
15 Apr 09 Sign Interpreted
25 Apr 09 Open Captioned (STAGETEXT)
2 May 09 Audio Described
7 May 09 Open Captioned (STAGETEXT)
Digital Theatre
This production is available to view via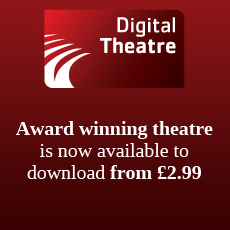 Other
Digital Theatre
productions include;
---
---
Cookies in Use