CORONAVIRUS:All UK venues closed on 16th March 2020 and look like staying closed until March 2021 with the exception of a few, patchy, openings (and subsequent closures) towards the end of 2020. Some open-air, drive-in venues have been opened for periods and many shows are now streaming on-line. Sadly, some venues and shows may not survive. We are updating our listings as much as possible to reflect the changes as they are reported.
Performance
Venue
Everyman & Playhouse
Other spaces: Liverpool Everyman, Liverpool Playhouse, Studio
Town
Liverpool
County
Merseyside
From
6th May 2011
Opened
12th May 2011
To
11th June 2011
When
Mon-Sat 19:30. Wed Mats 13:30. Sat Mats 14:00
Prices
From £10.00. To £24.00.
What is currently on at Everyman & Playhouse (V535)
Macbeth
T02067257777
The Scottish Play - theatrical types consider saying its name to be unlucky! Thrust into power by his overwhelming desires and an over ambitious wife, Macbeth finds his only security is to murder and murder again. From "When shall we three meet again" to "is this a dagger I see before me" a powerful Shakespearean drama.
---
Archive :: production:T02067257777, play:S4096, venue:V535
Current production:Work
---
Production details
Digital Theatre
This production is available to view via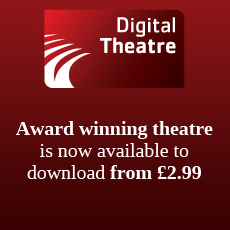 Other
Digital Theatre
productions include;
---
Developed and Maintained by
RMJIold
---
Cookies in Use